LA PESTE
"v.2.0"
YES,IT'S TRUE!

FINALLY on cd
FROM
SMASHEASY
(YEAH, THE REAL THING.
RECORDED IN 1980,
NEVER BEFORE
RELEASED.
RECENTLY
RE-MASTERED TO
DIGITAL FROM
ARCHIVAL TAPES
NEVER BEFORE
AVAILABLE. TOTALLY BOSTON PUNK.
TOTALLY F-ING
AWESOME.)

This is the second incarnation of the
band, with Ian
(Stevens) Kalinosky
on vocals and
guitar.
Great songs,
great energy.

Click here to
Buy Now at
amazon.com



RARE! Jan Crocker's
VIDEO OF
LA PESTE
(with Peter Dayton)
AT THE
PARADISE THEATRE
IN BOSTON:
"Better Off Dead"
click here


For Download info instead,
Click Here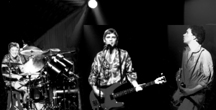 "One of the greatest punk songs EVER
is a La Peste song, Better Off Dead.
Before Burma was reaching for their revolvers La peste were positioning themselves in a national underground
consciousness. Dedicated and hard
working they strived to breakout and
garner large-scale musical reach.
Boston rock-lore abounds with rumors
of U2 being signed to a major label
at the expense of La peste. Would
La peste have turned out to be as
big as U2? .....


Lease on Life is the second track and
it is a killer. Along with many other
emerging Boston rockers of the time,
this one was in heavy rotation on
Boston Us college radio stations, as
well as, 50,000 watt commercial stations. Back in the day, I had no idea that the
band had broken up and this was a
new La peste. I thought it was the
same band with an expanded sound.
Razor rockin' and new wave tainted.
Guitar slices into a fast, jerking nerve-
laden onslaught. Primal drums about-
face to a driving force. The music
sounds sarcastic, bored, on-edge and guttural. The opening lyrics are some
of my favorite of all Boston bands,

Mother seems so bored now.
She has a brand new laissez-faire.
She keeps telling me about detente.
And I am telling you. I don't care.


As a re-release, this is a chance to
rehear the influential v.2.0 moments
and reinvigorate musicians and rock historians, alike. The sounds here are
great. The live/demo recording quality works. You can hear how good their
live performances and presence was." Gullbuy